S. Moye' Celebrates Women!
We create unique designs that highlight style and self-expression. Our designs are infused with elegance and a touch of edginess for the Fashion Forward Woman!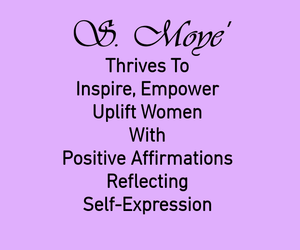 Product Reviews
More reviews available click on items. THANKS by S. Moye' Fashion
Malaysia Jumpsuit
I Love S. Moye' Fashion my Malayshia Jumpsuit. I got so many compliments I rocked it!
Karen Best
UnBossed and Sassy
I love this jumpsuit it's so SASSY I got so many compliments everywhere I went the day I wore it to dinner on the way there and leaving people would stop and ask where I got it. I mentioned S. Moye' I like the quality and fit.
Jackie
A beautiful piece of art
I loooooove my kimono. The picture doesn't do it justice. The colors are vibrant. It is very lightweight, The material is gorgeous. I went a size down because it runs big and it fits perfectly. I have no complaints. I would recommend this item in a heart beat. Thank you Stephanie for a very well made piece of art.
Lisa Sherwood
Beautiful and professionally done product
I love this shirt. I have received many compliments and the shirt fits me perfectly without having to go up or down a size.
Louise
Comment
I just love my Kimono from S. Moye' The colors construction and pockets.
Pam A Work In Progress